When Talking with Homeowners is a Blast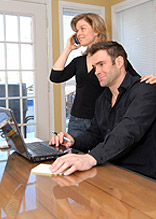 Tired of mailing fliers that end up in the trash? Posting announcements in the community center that nobody reads?
Have you ever wanted to say something – just once – and know that you were really spreading the word?
Now you can, with Communicate HOA's E-Homecast service.
Newsflash! Broadcast Emails Work
E-Homecast is a simple tool that lets you quickly craft a message and then electronically broadcast it to all homeowners on your database. You just type, click, and send.
The ideas for quick communication are limitless: You can send meeting notices, talk about planned upgrades, even deliver a 2-for-1 coupon to the local pizza parlor.
As with Communicate HOA's other tools, we provide you with a template that uses your community's logo, colors, and typeface. You'll be presenting a cohesive message – and one that gets noticed.
E-Homecast supports a one-way flow of information: You write; residents read. When you just need to share news, that's not a bad thing: Good communication is repetitious. The more often you share an important message, the more likely it is to be understood.